The Handyman Hotline is a fresh and unique interactive call-in (or e-mail) radio show on WXTK with four goals:
deliver helpful information when it comes to the home;
answer callers' questions about specific problems they have;
serve as a conduit between listeners so they can share tips and ideas;
have a few laughs along the way!
The Handyman Hotline serves a number of different groups of people across Cape Cod, the islands and over the bridges:
The homeowner – The Handyman Hotline is a valuable resource for homeowners with questions and concerns involving projects of all sizes and/or problems that need attention at their homes.
The contractor – The Handyman Hotline is a wonderful vehicle for learning and sharing tips on home improvement.
The sponsor – The Handyman Hotline provides an opportunity for construction and home improvement related businesses to reach their targeted demographic – the homeowner with disposable income who may currently be in the midst of, or planning, a home remodel, addition or simple fix. Unlike musical programming, listeners of The Handyman Hotline are actively listening, not only to the content of the show but also the content of the commercial breaks.
ABOUT THE FORMAT
The format of the show features hosts Larry Egan and NARI certified remodeler John O'Rourke answering callers' questions, offering timely seasonal tips and often including expert guests focusing on questions specific to a home-related topic. However, it goes much deeper than that.
The Handyman Hotline is also an audio resource guide for the homeowner, providing access to local, reputable businesses to help them make improvements to and/or solve problems in their homes. It's not "the help continues after this break." It's "the help continues during this break."

ABOUT THE HOSTS
Larry Egan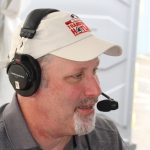 A long time broadcaster in the Cape and Islands area, Larry brings with him a combination of experience in both broadcasting and construction. A licensed home improvement contractor and construction supervisor, Larry grew up in a family of builders, from his general contractor father and engineer sister, to his architect uncle as well as cousins who are home builders, electricians and job site foremen.
"I was born with a hammer in one hand," Larry laughs, "and a splinter in the other!" One of Larry's first jobs was on the framing crew that converted the old Cotuit Inn to condo units.
When the radio bug bit, Larry went to work for WMVY on Martha's Vineyard. He would frame houses during the day for Rosbeck Realty and Sound Builders and work the 10pm-2am shift on the air. In 1998, Larry arrived at Cool 102 in Hyannis, and it was during his time there that he had the idea for a homeowner call-in show.
"There was nothing like it on the air," Larry recalls, "a talk show that serves a purpose to homeowners, and doesn't just go on and on with political hatred for the other side of the aisle."
The problem was WXTK was owned by another broadcasting company, so Larry sat on this idea for a few years until the day that Qantum Communications bought WXTK and WCOD. "I've got an idea for a show…" and the rest is history.
John O'Rourke

John O'Rourke wears many hats in his daily activities as a professional handyman, remodeling contractor, radio talk show host, and real estate investor.
John has over thirty-five years of experience working in the remodeling and home improvement industry. He is self taught and proficient in many of the building trade disciplines. The bulk of his experience has been in renovating and repairing existing buildings including historic structures. John has held his Massachusetts Construction Supervisor License with no restrictions since the early 1980's. Prior to this time, he was a licensed builder in the State of Rhode Island. He acquired his Massachusetts Lead Abatement License in 1997; he qualified to become a NARI Certified Remodeler in 2007; and received his EPA RRP Certified Renovator certification in January of 2010.
Along with his co-hosting duties on "The Handyman Hotline," John has also written a number of articles for the magazine "Home Remodeling, Cape Cod & The Islands" on various subjects from kitchen remodeling to performing every day home repairs.
As a real estate investor, John specializes in obtaining undervalued and physically distressed properties where his knowledge of renovations and repairs is put to work to create a profitable investment. He prefers a "buy and hold" approach and favors the idea of partnering with others on real estate investments.
John O'Rourke was one of the original co-founders of the NARI Cape Cod chapter. John has served as chair of the programs committee and has acted as the master of ceremonies for the monthly dinner meetings.
ABOUT WXTK 95.1
WXTK is a 50,000 watt radio station that's a ratings monster – 50,000 weekly listeners tune in to the "news leader." The tower is centrally located in West Yarmouth. Its location guarantees excellent coverage of Cape Cod, the Islands, and well beyond the bridges.